Beyond the Classroom
A Wymondham College Sixth Form education will go far beyond the classroom. We have a long standing Speakers Programme which has attracted many professionals from all industries including David Dein, former Vice-Chair of the Football Association and member of UEFA and FIFA committees and Andy Barratt, Chairman and Managing Director at Ford of Britain.
We hold two annual lectures. The Peel Lecture has a commitment to the Sciences and in recent years we have welcomed British Biologist Prof. Nessa Carey, who discussed genetics, Prof. Colin Cooper who talked about current cancer research and Dr Adrian Dubock who discussed GM crops.
The Lincoln Lecture has a different theme each year.
Recent guests include Film Director, David Kunac with the UK's premier of his award winning documentary "Drawing Against Oblivion" and Sarah Churchill who discussed the effect of 'The Great Gatsby' on modern America.
Student leadership is paramount to our community and a vast number of societies are student led and span a variety of interests with many proving very successful in national competitions. Our award winning societies include the Debating Society, Young Enterprise, Maths Society and regional champion sport clubs. There are also societies that are not competitive but have an equal passion for their subject; Drama, Jazz Band, Law, Medicine, Choir, History, Amnesty International, Dance, Combined Cadet Force and Yoyo to name just a few. In addition we have a Junior Common Room which is a team of students that drive the development of the Sixth Form and host social and charity events throughout the year, the highlight of which is the annual Christmas Prom.
Our Headteacher's Council is elected by the Sixth Form students and works alongside the Headteacher and CEO of the Academy Trust. They are ambassadors for the College across a host of events and activities, including the March to Malawi involving the whole College walking nearly 8000 miles raising funds for the charity Sparkle. We also encourage our students to become subject leaders, who promote their subjects on open days and tutor younger students.
We run at least 7 international trips each year from Argentinian and Spanish exchanges to World Challenge expeditions, ski trips and the Gold Duke of Edinburgh's Award. We also provide work experience, volunteering opportunities, mentoring programmes and UCAS experiences.
Sport
The College has a strong reputation for sport with vast numbers of young people involved in activities each week. The PE Department are commited to weekend fixtures throughout the year and running a wide variety of clubs across the College day. In addition, sports tours have been organised in recent years such as a Netball tour to Cyprus and a Rugby tour to South Africa.
Drama & Music
Wymondham Life is proud of its strong tradition of drama and music. Recent performances of 'Guys and Dolls', 'Annie' and 'Grease' are examples of the lavish productions that both enthral and captivate our audiences. Enjoy and Achieve is the central philosophy for the Music Department. In addition to curriculum music lessons, students have access to a huge range of performance opportunities, including ensembles, a Jazz Orchestra and the Concert Band. The work of the department is supported by visiting music staff and achievement in all areas is exceptional. Many students go on to study music at a higher level. Additionally, the College offers specialist music places in Year 7 and Boarding Scholarships for musicians in Year 12.
Holiday Activities:
These include ski trips and sailing holidays as well as adventurous expeditions to destinations such as the Far East and Kenya with World Challenge.
Wymondham Life Programmes
| | |
| --- | --- |
| Wymondham Life 1 | Available to all students | Lunchtime & immediately after school. |
| Wymondham Life 3 | Available to boarders and Day+ students Years 10, 11 & 12 | 20.30 - 21.20 |
Please see the calendar below to find out what extra-curricular activities are available and for which year group. You can also download a PDF version of the Wymondham Life programmes with the documents section at the bottom of the page.
Other Opportunities
See the drop-down sections below for other opportunities we offer as part of Wymondham Life.
Wymondham College provides students with a broad range of additional opportunities both within and outside of the taught curriculum. These opportunities are strategically planned within the strands: Wymondham Life, Floreat and Hinterland. This approach to personal growth and development is sometimes targeted by specific departments or towards specific groups of students. This holistic approach is designed to develop students' Pride, Passion and Positivity by raising aspirations, building cultural capital, and developing character to enable our young people to flourish both here and in the wider world.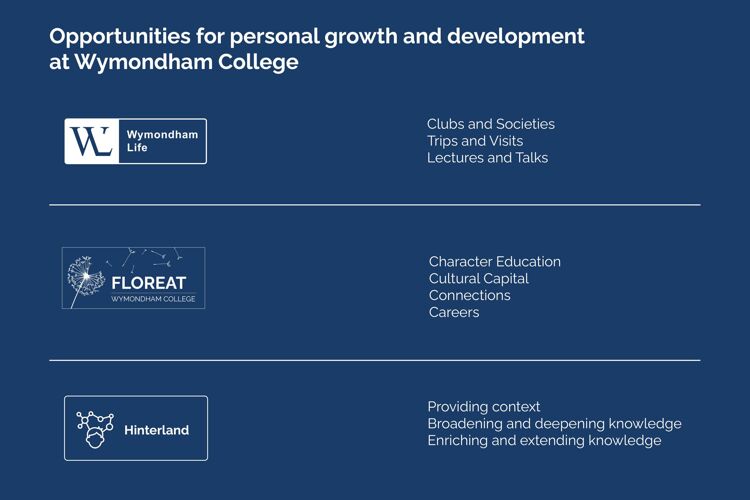 International Exchanges
Wymondham College is proud to have forged many international links which enable our students to diversify their cultural interests. Therefore exchanges are offered across all Key Stages. In recent years we have linked with France, Germany, Czech Republic, Spain and Argentina.
These visits allow students not only to gain linguistic skills through experiencing a homestay with their partners, but also to increase their cultural knowledge through visits to museums, galleries and local places of interest. Students return with a greater appreciation for other nationalities as well as increased confidence.
Past itineraries have included lesson participation, city tours, visits to places of cultural interest, boat trips, and sessions at outdoor adventure locations.
Combined Cadet Force
Wymondham College's CCF unit consists of two sections, Army and Royal Air Force, which both provide outstanding resources and training opportunities.
Membership of the CCF is exciting, rewarding and above all fun. You will discover and develop skills you never knew you had, do things and visit places you never thought you would, and meet lots of like-minded people who will become your team-mates and friends.
You will have the opportunity to challenge yourself with adventurous training, to develop your potential on Leadership Courses, and have the chance to shine as a cadet.
The CCF Contingent meets every Tuesday at 4pm for 90 minutes once a week throughout term time. Any student at Wymondham College aged 13 or over is eligible to join and take part in Army or RAF-based activities such as Fieldcraft, Flying and Gliding. In the school holidays the CCF organises the annual camp, adventure training and additional leadership courses.
Young Enterprise
Young Enterprise helps students in Year 12 gain practical business experience by setting up and running their own company.
Students set up and run their company over the course of one academic year. They elect a board of directors from amongst their peers, raise share capital, and market and finance a product or service of their own choice.
At the end of the year they present a report and accounts to their shareholders. Students gain experience of the real world: taking responsibility and being accountable to their shareholders for the running of the business.
World Challenge
World Challenge provides educational expeditions in the developing world, which teach life skills and expand minds outside the classroom, fostering team spirit and leadership skills in remarkable environments.
World Challenge offers an unrivalled range of expeditions geared to the education of young people. With over 20 years of experience, students and teachers benefit from a level of expedition safety and service second to none.
Every bespoke programme that World Challenge deliver is designed with the students' personal development in mind and sees young people involved in planning and fundraising their way to the experience of a lifetime. The life skills they learn will not only aid personal growth, but can help secure university places and impress future employers.
The UK's key employers voted World Challenge by name as the fourth most important activity undertaken at school. These organisations rated leadership, teamwork, self-motivation, communication, confidence, consideration of others and the ability to learn as being the key determinants in the selection of employees; all of which are World Challenge's life skills.
Duke of Edinburgh
The Duke of Edinburgh's Award (DofE) was founded in 1956 by His Royal Highness The Duke of Edinburgh and is renowned as the world's leading youth achievement award.
Young people will achieve a Duke of Edinburgh's Award if they show persistence, commitment and personal development over a period of time. Every activity must be successfully completed and assessed. Completing a DofE programme equips young people for life and work, and is recognised by employers and universities alike. Through their DofE journeys young people develop resilience, confidence and a 'can do' attitude as well as the social and communication skills that businesses are calling out for.
As a Direct License Centre, Wymondham College is able to accommodate students undertaking each level of the award in the following year groups:
Bronze (Year 10)
Silver (Year 11)
Gold (Year 12)
"The Duke of Edinburgh's Award exists for all young people. Functioning as a complement to formal education, the purpose of the DofE is to help young people gain experience of some of the most rewarding opportunities available to adults in their non-working lives. The Duke of Edinburgh's Award has helped countless young people on their sometimes difficult path to adulthood. It has gone from strength to strength, with Awards being achieved every day and employers in every field of industry recognising the value of the experiences gained and the skills and characteristics developed by the young people that take part." – HRH THE DUKE OF EDINBURGH
Further information regarding each section of the award levels can be found on the Duke of Edinburgh website: https://www.dofe.org/
I look forward to taking as many students through each level of the award as possible.
Best regards,
Mr J. McGovern - Duke of Edinburgh Manager