Student Leadership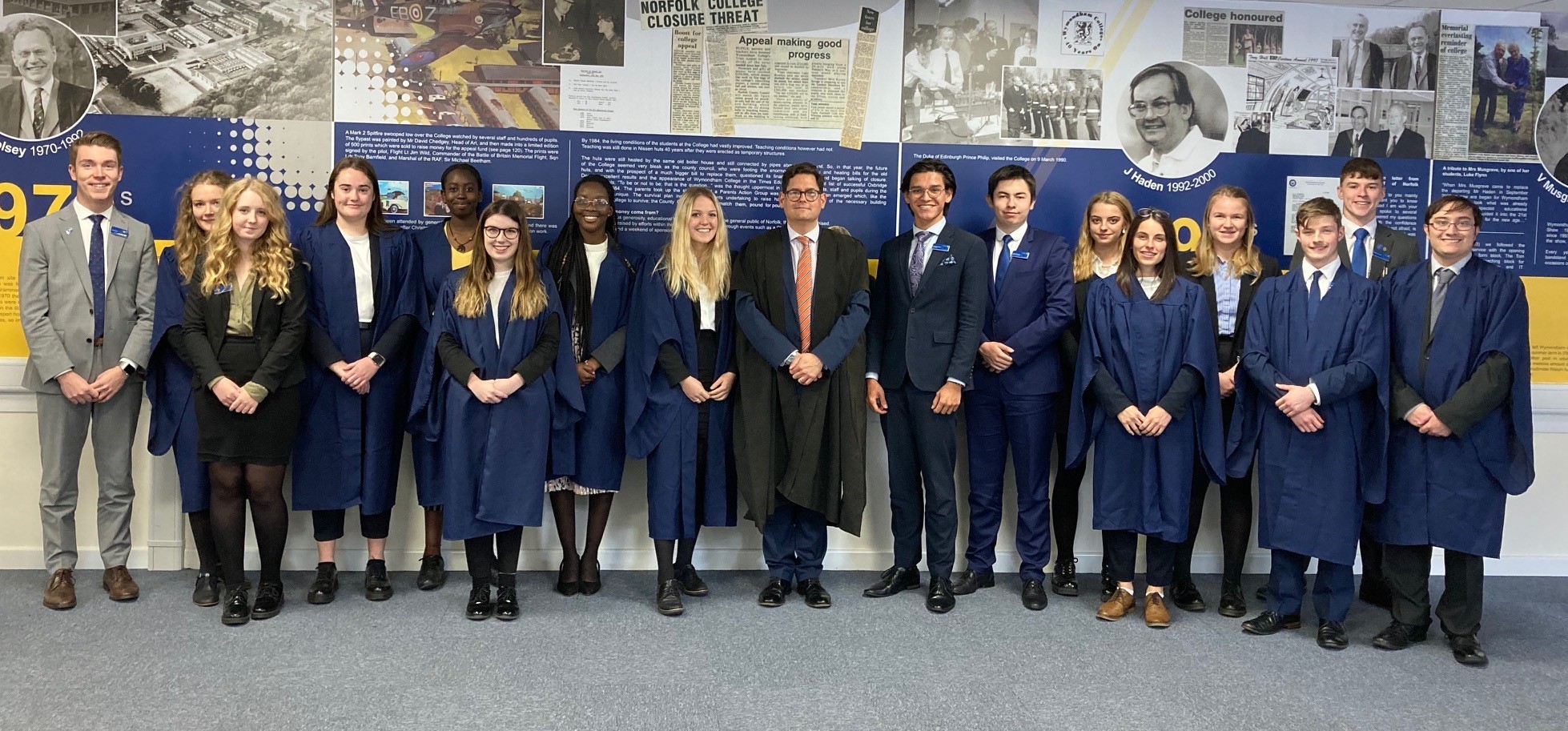 The Head Teacher's Council is a group of Year 13 students who are the voice of the student body.
They discuss issues raised by the students from across the College, meet regularly with the Headteacher and fundraise for chosen charities. Each member of the Council has a unique responsibility and area of expertise and two students take the roles of Head Boy and Head Girl.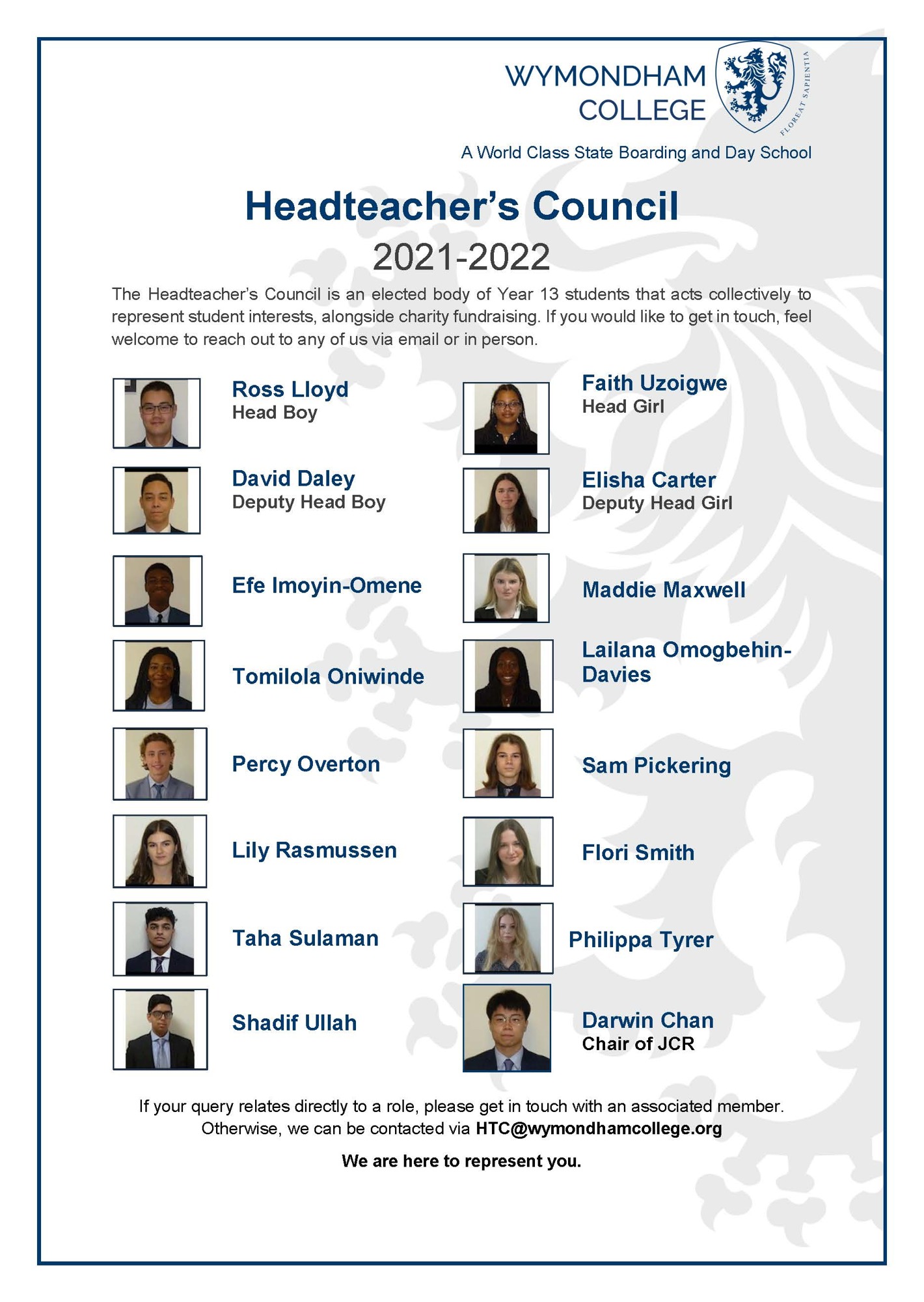 headteacherscouncil@wymondhamcollege.org
---
Head Boy
Hello, I'm Michael.
I grew up in Brunei, a small country on the island of Borneo. Having lived in and travelled around Southeast Asia, I am familiar with a wide variety of cultures and am used to collaborating with people from diverse backgrounds.
Since joining the College a year ago and being a full-time boarder, I have had many wonderful opportunities which have helped to develop me as a person. With the support of the College I have been trained as a mental health first aider and this has helped me to understand the importance which positive mental health plays in our wellbeing. I have enjoyed attending informative and inspiring science lectures, have learnt to ski and am currently undertaking the Gold Duke of Edinburgh's award.
Wymondham College is very inclusive, with pupils from many cultures and backgrounds. Over the next year I aim to further enhance our diversity and bring the College community even closer together. It is an honour to be the Head Boy, and I am looking forward to working with both students and staff to build on the outstanding provision offered by the College.
---
Head Girl
I am Harriet and I am very proud to be the current Head Girl at Wymondham College.
I have been at the College as a day student since Year 7, spending my first five years in Peel Hall. Since the very first week, I can truly say that I have immersed myself into every opportunity that the College has offered academically and through extra-curricular activities. This has led to me spending most of my time on the sports fields at lunchtime or after school with either a hockey stick, netball or rounders bat in hand. I have had the opportunity to travel far and wide to get to fixtures and I was even lucky enough to play hockey at the Olympic Park! Wymondham College has also driven my career ambition to work in medicine from external speakers to dissections.
This year coming, I look forward to celebrating Wymondham College's 70th year anniversary, while adapting to the changes we will face due to COVID19. Wymondham College has such a strong sense of family and community, which has made me feel so supported and cared for throughout my entire high school experience. I am confident that together we will be able to bounce back stronger than ever after such a challenging period.
In my last two terms I am excited to work with the rest of Headteacher's Council to make a positive impact on the College and leave behind an everlasting legacy.

---
Our Chosen Charities
This year, Headteacher's Council have decided to support four charities which hold relevance to our main objectives this year: Diversity, Mental Health and supporting the local community in light of the COVID-19 pandemic.
The Trussell Trust
The Trussell Trust is a charity which funds, supports, and owns foodbanks both locally in Norfolk and across the UK. In a time of unprecedent financial difficulty brought on by the COVID-19 pandemic, many families depend on such services to get by. Through working with this trust, we will be giving back to the community by helping local foodbanks.
Norfolk LGBTQ+ Project
Norfolk LGBTQ+ Project is a community-based service which provides support connected to the health and wellbeing needs of the LGBTQ+ community. This year, one of the HTC's initiatives is to build on and improve diversity in all its forms within Wymondham College. Working with the Norfolk LGBTQ+ Project will enable us to broaden our understanding and appreciation of the diversity within the college and local community.
Black Minds Matter
Black Minds Matter is a charity which aims to link black individuals and families in the UK with professional therapists for counselling sessions. The Black Minds Matter charity has wider branches, such as Black Thoughts Matter, which supports the equality of the BAME community in the workplace. Collaborating with this charity will enable us to positively impact cultural diversity and mental health in BAME communities.
Eating Matters
Eating Matters is a Norfolk- based charity offering support and counselling in close partnership with the NHS for people suffering from mild to moderate eating disorders in the local community. Through cooperating with this charity, we can give back to our community and stand by people who are struggling with eating disorders.