Student Leadership
The Head Teacher's Council is a group of Year 13 students who are the voice of the student body.
They discuss issues raised by the students from across the College, meet regularly with the Headteacher and fundraise for chosen charities. Each member of the Council has a unique responsibility and area of expertise and two students take the roles of Head Boy and Head Girl.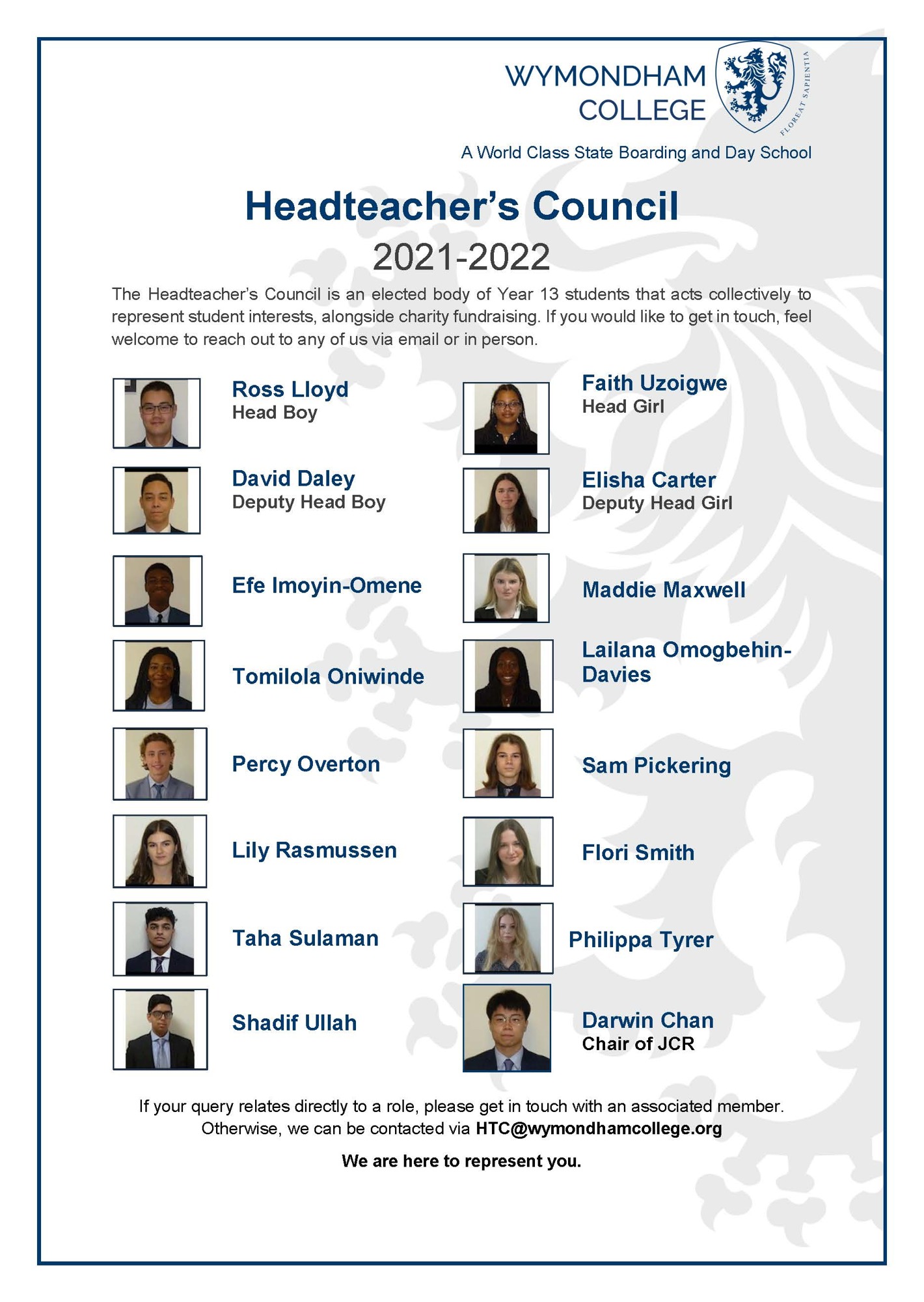 headteacherscouncil@wymondhamcollege.org
---
Head Boy
Hello, I'm Michael.
I grew up in Brunei, a small country on the island of Borneo. Having lived in and travelled around Southeast Asia, I am familiar with a wide variety of cultures and am used to collaborating with people from diverse backgrounds.
Since joining the College a year ago and being a full-time boarder, I have had many wonderful opportunities which have helped to develop me as a person. With the support of the College I have been trained as a mental health first aider and this has helped me to understand the importance which positive mental health plays in our wellbeing. I have enjoyed attending informative and inspiring science lectures, have learnt to ski and am currently undertaking the Gold Duke of Edinburgh's award.
Wymondham College is very inclusive, with pupils from many cultures and backgrounds. Over the next year I aim to further enhance our diversity and bring the College community even closer together. It is an honour to be the Head Boy, and I am looking forward to working with both students and staff to build on the outstanding provision offered by the College.
---
Head Girl
I am Harriet and I am very proud to be the current Head Girl at Wymondham College.
I have been at the College as a day student since Year 7, spending my first five years in Peel Hall. Since the very first week, I can truly say that I have immersed myself into every opportunity that the College has offered academically and through extra-curricular activities. This has led to me spending most of my time on the sports fields at lunchtime or after school with either a hockey stick, netball or rounders bat in hand. I have had the opportunity to travel far and wide to get to fixtures and I was even lucky enough to play hockey at the Olympic Park! Wymondham College has also driven my career ambition to work in medicine from external speakers to dissections.
This year coming, I look forward to celebrating Wymondham College's 70th year anniversary, while adapting to the changes we will face due to COVID19. Wymondham College has such a strong sense of family and community, which has made me feel so supported and cared for throughout my entire high school experience. I am confident that together we will be able to bounce back stronger than ever after such a challenging period.
In my last two terms I am excited to work with the rest of Headteacher's Council to make a positive impact on the College and leave behind an everlasting legacy.

---
Our Chosen Charities
This year Headteacher's Council have decided to support three worthy charities that we feel very passionate about that have some very personal links. All the charities are local and have an impact on the people around us.
Addenbrooke's Children Hospital
Addenbrooke's hospital is part of the Cambridge University Hospitals NHS Foundation Trust and is Norfolk's centre of medical excellence. As an internationally known university teaching hospital, it is a natural centre for specialist services dealing with rare or complex conditions needing the most modern facilities, up-to-date treatment and the best doctors.
However, due to the nature of the quality of treatment at Addenbrooke's it is very busy and therefore very difficult for children who require urgent medical attention to gain a place there, hence, the need for a children's hospital. The hospital itself is set to treat anyone in need of urgent medical care up the age of 21.
This is a cause that we as council feel very strongly about, as it can affect any child our age and in this case even Mr Browning's own daughter, since her recovery we as a council believe that we should make every effort to help see this projected completed.
2. The Big C
The Big C was launched in 1980, with the aim that the people of Norfolk & Waveney would have access to the best treatment and support in their local areas. It was discovered that travelling between hospitals in London and Cambridge was often harder than the treatment itself. Since the creating of the Big C appeal they have raised over £32,000,000, going towards Surgical and diagnostic equipment at Norfolk's hospital meaning that many people diagnosed with cancer can be treated closer to home.
We know that as a College there are students struggling with family members being affected by cancer, with many them offering up this charity we believe that this a small way for us to help them and their families.
3. The Shed
The Shed is a place where men can go and interact with other men in a safe and non-judgmental environment. This environment is created within a facility where practical activities can be engaged with the assistance of skilled men and a strong sense of community.
This community project is aimed to assist men with social and emotional issues who may feel that they do not "fit in". This could be to their family, community or even society in general for whatever reason. It could also result from living in a difficult relationship, or worse from a relationship break up, loss of a job or even a past prison sentence. Shoulder to shoulder talking with direction and purpose in worthwhile tasks allow supportive relationships/therapeutic avenues to be built and trust established. This enables positive outcomes for partners, family and the wider community where the suicide rate for men is four times the rate of women.
At the College, we remember that both men and women are affected equally by troubling events and that the issues that men face are commonly hidden or not talked about. We decided to make a strong effort to change this ideology to make to ensure the wellbeing of all our students is paramount.