Student Leadership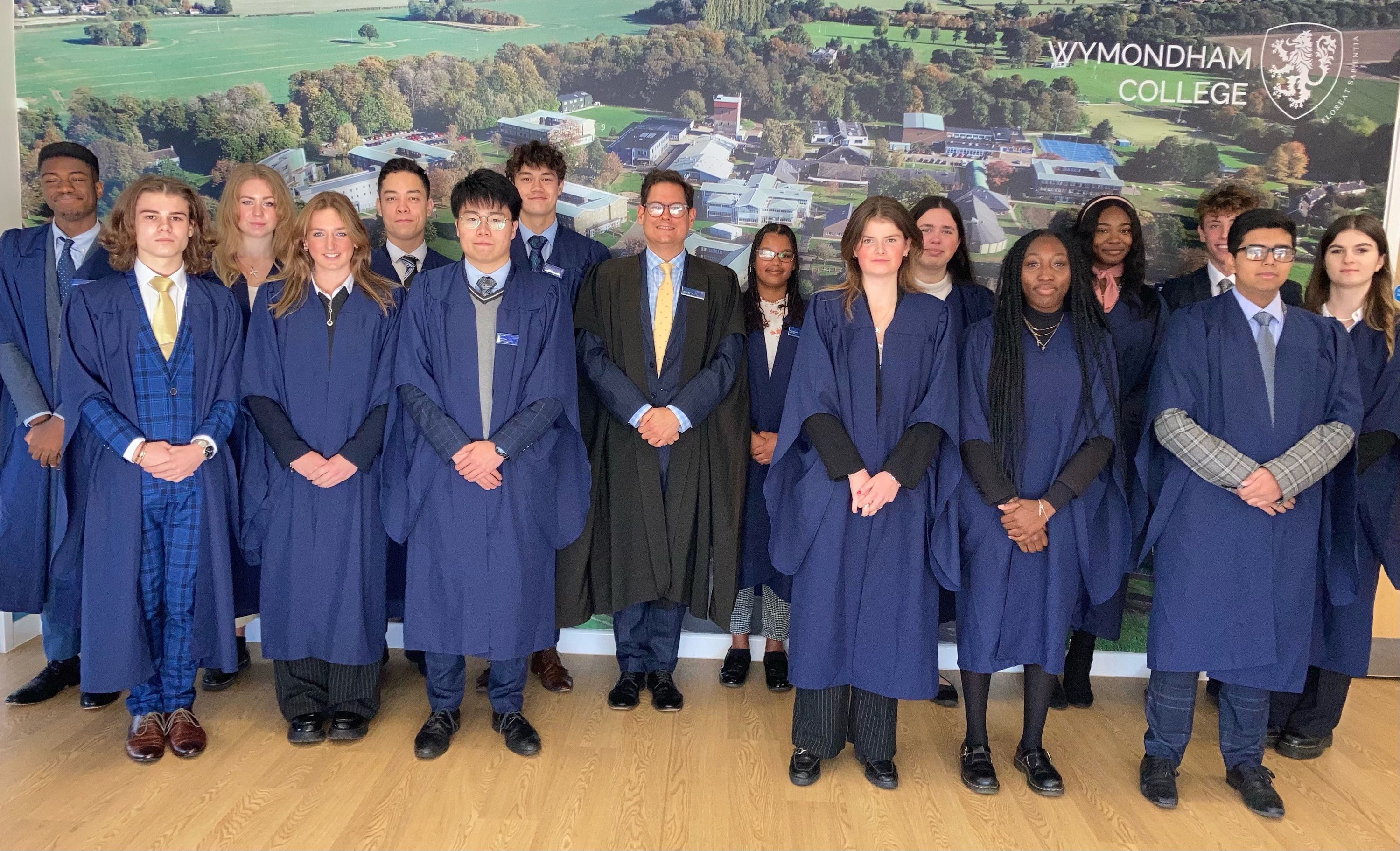 The Headteacher's Council is a group of Year 13 students who are the voice of the student body.
They discuss issues raised by the students from across the College, meet regularly with the Headteacher and fundraise for chosen charities. Each member of the Council has a unique responsibility and area of expertise and two students take the roles of Head Boy and Head Girl.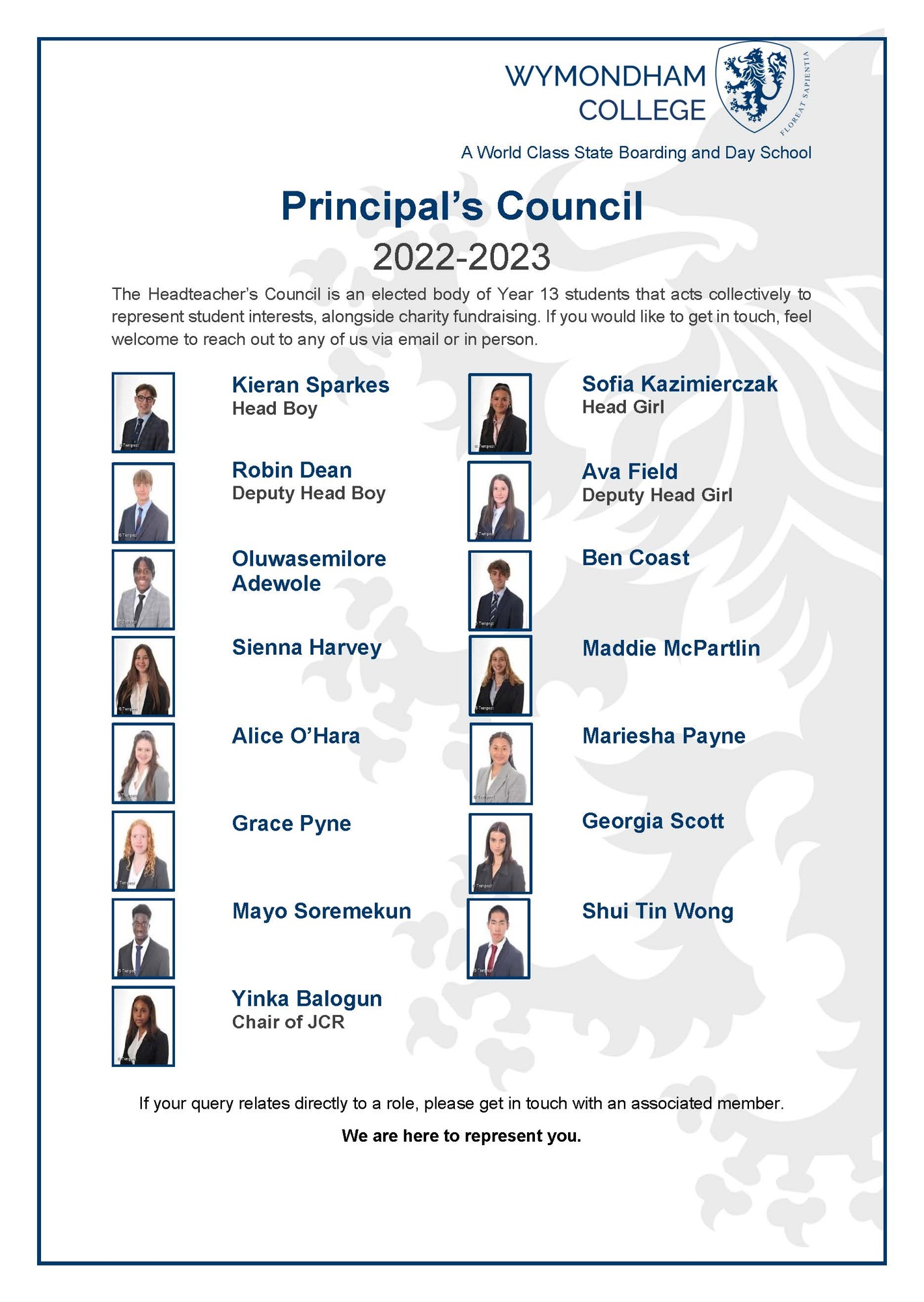 ---
Head Boy
Hello, I'm Ross
This is now my seventh year at the College. Throughout my time here, I have been supported by both friends and teachers, encouraged to try things I hadn't done yet or were outside of my comfort zone, providing me with countless new ideas which have allowed me to develop my character and become more independent.
Life here at the College has always been exciting. Not only am I proud of our outstanding living and educational standards, I am also delighted that the College maintains the same priority in terms of extracurricular activities.
Before attending this school, I encountered many diverse cultures at home in Saudi Arabia. However, my experience did not stop there. The College is impressively inclusive, with students from a broad range of backgrounds and traditions.
As Head Boy, I am looking forward to giving back to the College that has provided me with so much, and I am honoured and excited to be working with the Headteacher's Council during the forthcoming year.
---
Head Girl
Hello, I'm Faith
I am honoured to be appointed as this year's Head Girl of Wymondham College. Since joining in Year 12 as a day student, I have gained valuable skills through the holistic education provided at this school.
While not having had the typical Wymondham College experience, I have been fortunate to spend a lot of time with those that attended the Main School here and heard the many stories about the typical activities that are enjoyed College wide. I am delighted to be able to participate in the usual events that the College offers this year and gain the full Wymondham College experience the proper way. This includes Wymondham Life as well as the other opportunities offered by the College to enhance the education beyond the scholastic curriculum, teaching us to be well-rounded smart young people.
Having moved multiple times within the last 10 years, there have been many places and people I have encountered that all have their own, unique cultures and habits. From this I have learnt numerous life and social skills which I believe can help me in my role at this diverse school. It is so nice to see that although there are many different cultures present, it is still a vibrant place where everybody interacts with each other in a fun and respectful manner.
As Head Girl, I hope to leave a positive mark at the College by making everyone feel included. We are optimistic that this year things can go back to a 'normal' which we are more used to. I look forward to working with the Headteacher's Council and other members of the College to bring new things and to uphold and maintain well-loved traditions.
---
Our Chosen Charities
This year, Headteacher's Council have decided to support the following three charities:
Mind: Mind is a mental health charity located in England and Wales. It was founded in 1946 as the National Association for Mental Health and it is celebrated its 70th anniversary in 2016. Mind offers information and advice to people with mental health problems and lobbies government and local authorities on their behalf. With the pandemic and other stressful events, focusing on mental health is more important than ever and we are proud to represent them. This initiative is being led by David Daley (Mental Health/Wellbeing team member and Deputy Head- Boy)

WWF: The Worldwide Fund for Nature is an international non-governmental organization founded in 1961 that works in the field of wilderness preservation and the reduction of human impact on the environment. The team, led by Lilly (Graphics Designer and one of our Environmental Officers) aims to make this school greener through recycling and is setting up a school run in March to promote the cause, returning to a beloved Wymondham College tradition.

Show Racism the Red Card: Show Racism the Red Card is an anti-racism education charity, established in England in January 1996 to harness the high-profile nature of footballers as anti-racist role models to educate against racism throughout society in the United Kingdom. In light of recent events and keeping in line with Wymondham College's ongoing ambition to promote inclusivity and tolerance, this charity is a perfect fit for us. Furthermore, as we are a considerably sporty school, we hope our efforts can be enjoyed all students and staff.