Reporting and Assessment
Assessment
What does it look like?
Regular progress checks – Summative - consistent across dept
Formative Assessment - Targeted at a particular skill/skills to allow meaningful Formative Feedback
Planned timings to feed into PR data
What for? To be able to:
MAP where the learning is at
MASTER the LEARNING: Use the map to know where and what needs mastering, and do this
MOVE FORWARDS with new content, next sequence of learningWhat checks?
What checks?
Assessments must be robust and consistent across the department, within year group and tier of entry and must inform teaching and the curriculum review.
Types of Knowledge
Essential knowledge: Gateway knowledge: Key concepts which enable learners to progress to the next stage in their learning journey
For KS3, Desirable knowledge: when appropriate e.g. H/W or lesson allocation if possible once essential knowledge is mapped
For Ks4/5, Exam skills focus: Personalised
Example Data & Reporting Calendar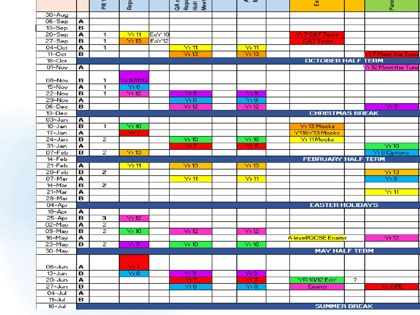 KS4/5 Data Tracking
The College recognises the importance of reporting SMART data. Recording formative assessment grades gives us the detail we need to address areas of strength and weakness within the content being assessed.
HOWEVER, it is not fit for purpose when it comes to reporting an overall picture of where that student is within their learning journey. It is a snapshot of their knowledge of a particular subset of that subject taken at any given time. As a result it tends to give a spikey picture.
Thus, we continue to report a student's CURRENT WORKING GRADE (CWG) which is an holistic (ipsative) grade that best reflects the standard to which they are currently producing work.
It is NOT their Predicted GCSE/ A level grade or the grade they would achieve if they sat the exam tomorrow.
This should give us a smooth curve for improvement and allow for better informed interventions to take place.
KS3 and KS3+ Data Tracking
Every report throughout years 7 to 9 students will be given three indicators of how well they are currently doing in each subject.
A Current Indicator of Attainment (CIA): This gives a current idea of a student's potential by the end of year 11. It is set at the start of year 7 and will be reviewed based on their progress and effort over years 7 to 9. (In the absence of KS2 data, this will be calculated using CAT4, PTE, PTM scores and FFT data)
A Progress Grade: The progress grade is based on the current progress a student is making, relative to their CIA, in that subject . This will be based on the work they have produced, their progress in lessons and the marks they have gained in unit assessments (P-/P/P+) . This will indicate whether the student is making less than, more than or in-line with expected progress towards their CIA
A PPP Grade: This will be linked to our college values; Pride, Passion and Positivity and will be based on their aptitude and attitudes to learning and how well they are demonstrating these values in lessons, and within their Form and their House. (listed below)
External Assessments (CAT – Cognitive Ability Testing, PTM – Progress Test Maths, PTE – Progress Test English)
CAT – Beginning of Year 7
PTE/PTM – Beginning and end of Year 7 and end of Year 8
A PPP Grade (Attitude to learning)
These grades relate to specific criteria identified by our core values; Pride, Positivity and Passion. They are awarded on a four-point scale that measure the consistency of a student's learning behaviours in your given subject. The grades should take into account the aptitude and attitude to learning in your subject area throughout the term. They are measured on a 4-point scale: ALWAYS, MOSTLY, SOMETIMES, RARELY/NEVER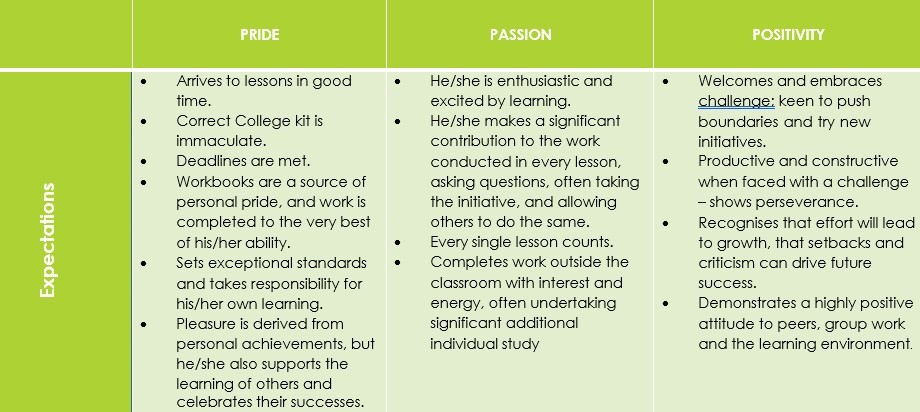 Current Indicator of Attainment (CIA)
The CIA indicates a students potential. This will be based on CATs /PTE/PTM/ FFT /Teacher judgement and formed through progress and cohort targets.
'Current' is significant in that it is not limiting or focused or a pre-determined destiny. It can change if they make more rapid progress or higher levels of effort, evidenced clearly through their other grades.
This should only be seen as a guide and it is certainly not intended to be a fixed or definitive destiny (This must be stressed to both students and parents)
Progress
This should be a clear indication of how well students are progressing in each individual subject inrelation to their CIA.
This grade should be arrived at through a teacher's professional judgement. It should not be linked to any one piece of work or test and is not linked to any other grade. It should be an ipsative assessment that reflects how the student has improved in the subject in relation to their own previous performance
Reporting and Quality Assurance
Two reports home per academic year, each requiring a written comment
Within the reporting cycle, there is a 2 week interval between the data drop by teachers and reports going home to parents. This has been done to enable quality assurance of the reporting content by HoDs, SLT and the Data Manager
Tutors schedule academic mentoring sessions with their tutees during the week indicated in the Reporting & Assessment calendar. These sessions discuss the outcomes within the report and are written up and recorded