Our Campus and Facilities
We are blessed with 83 acres of green open space in the heart of rural Norfolk. We have benefitted from significant investment over the past 15 year that has included Lincoln/Ralphs building, the International Centre, new Astro turf pitches, Peter Rout Centre, Refurbished Music Centre, Jubilee Reception Building and Refectory extension. All in our community will also benefit from the multi £million Wymondham College Prep School development including Underwood Hall boarding House for Year 5/6.
Our specialist Technology Building was opened housing Art, DT, Photography, Food, Textiles and Computing and centres around 'The Atrium', an exhibition space to showcase our students' creative talent. Music and Science are also taught in their own modern specialist areas. The Sports Building includes an indoor swimming pool, sports hall, gym, weights room and squash court. Outside; our tennis courts, Astroturf and sports fields allow a huge range of sports and Wymondham Life clubs to take place throughout the week and weekend. We also have some wonderful woodland which is used for Forest School (one of many Wymondham Life activities) and our indoor rifle range.
At the heart of our College is our Heritage Centre and chapel, which welcomes children and staff of multi-faith and provides a quiet space for reflection and prayer.
Our Wellbeing Team (Oasis), Combined Cadet Force (CCF), Duke of Edinburgh Award Scheme and Wymondham Life, along with our RE Department have all moved into the newly refurbished Hive building, formerly used by the Prep School.
Being part of the 'WymCol' family allows students to access wonderful facilities in a calm, green and well cared for campus; a space that allows them to flourish.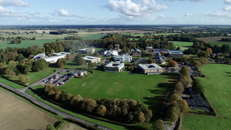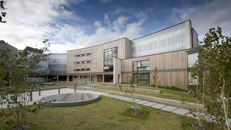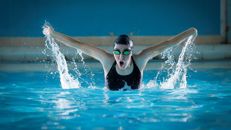 Wildlife at the College
Blessed as we are with a rural campus, we do all we can to live as one with nature. We support birds and owls with nest boxes (some with webcams installed). Students can work in our nature garden as a Wymondham Life activity and we have several areas of the campus set aside for wildflowers and 'no mow' areas for the month of May.
We take our environmental responsibilities very seriously. We work with a waste contractor that sends 0% of our waste to landfill and we have facilities to recycle paper, metal and batteries. Many of our buildings also have solar panels.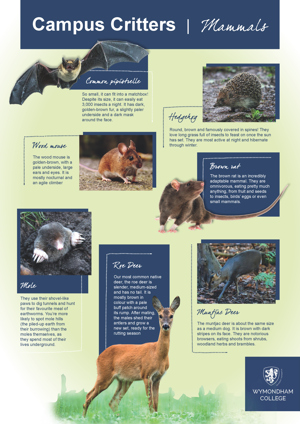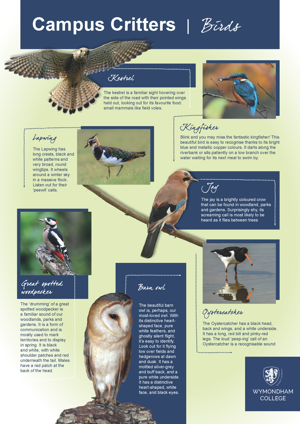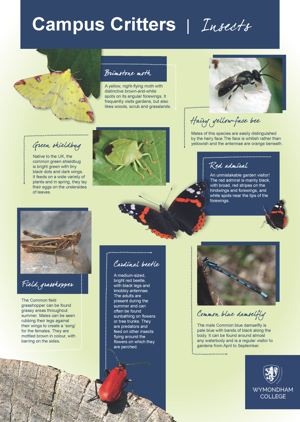 Wymondham Campus Critters - MammalsWymondham College Campus Critters - BirdsWymondham College Campus Critters - Insects