Fry Hall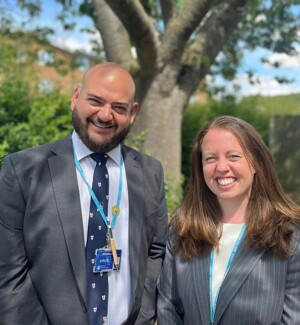 Fry Hall has been our home for the past five years. Our boarders talk about 'coming home' after their lessons each day and we take pride in making Fry as welcoming and homely as possible for all. Fry students are an active part of this endeavour, bursting with enthusiasm when we have visitors or when new students arrive and collaborating with staff to keep Fry looking smart.
Although Fry Hall is one of the smaller boarding houses at Wymondham College, we make good use of the space and students can often be found at the pool table or air hockey table, watching Sky TV, playing on the Xbox, playing games in the Prep room, lounging on our comfy sofas or deep in concentration in the year 11 study room. We have extensive kitchen facilities with a kettle and microwave available for use in the evenings and double ovens ready for baking goodies at the weekends.
We live within the boarding house in a private residence with our two children, Elisa and Eva (aged 8 & 5) and our two Bodeguero dogs, Pippo and Chester, although you will often find all four sneaking into Fry as they are most definitely included as part of the Fry Family. Originally from Enfield, North London, we met when working as lifeguards over 20 years ago then moved to Italy, where we were married and Elisa was born. We have 30 years of teaching experience between us; Mr Padreddii was previously a teacher in London and then Director of Inlingua Parma (Italy); Mrs Padreddii was a Languages teacher in St Albans, having previously studied in Cuba and worked as an English teacher at the university in Valdivia, Chile before choosing to settle in wonderful, peaceful Norfolk.
Our passion for boarding stems from our desire to support young people to become rounded individuals; we encourage students to succeed in their studies but also ensure they look after their own wellbeing and develop skills they will need later in life. Mr Padreddii will often be found assembling furniture, making pizza dough or sharing life stories over a game of cards and Mrs Padreddii enjoys baking with the students or sharing money-saving tips as well as pearls of wisdom if students are experiencing tough times. Elisa and Eva are always around for students to develop their childcare skills (and patience when the craft cupboard opens!) and to play games, and Pippo and Chester always need cuddles and walks around our glorious campus.
We continue to focus on student leadership for Fry this year and improving relationships between year groups. Our House Captains, Tiffany and Thomas, and their team, Lexie, Harry, Poppy O, Gabi, Florence, Poppy N, Freya, Niamh, Rachel, Erin, Bea, Oliver work closely with us to drive ideas forward. They hold various roles such as Mentoring, Academic, Wellbeing, Pastoral, Marketing and more. We are excited to be working on various projects with the Student Leadership Team this year, including much more charity fundraising for our newly nominated charity, The Elizabeth Fry Charity. Fry's Deputy Head of House, Mr Larter has many years of pastoral and teaching experience, sharing our passion for boarding, and our matron, pastoral and tutor teams have extensive skills in providing outstanding care for young people.
Mr Chris Padreddii and Mrs Kristi Padreddii, Heads of House, Fry Hall
House Staff List
FRY HALL

Head of House (job share)

Mr Chris Padreddii / Mrs Kristi Padreddii

Deputy Head of House

Mr Edward Larter

Assistant Head of House

Mr David O'Brien

Tutors

Mr Danny Coates

Mr Marc Gee

Miss Hannah Godbold

Ms Juliet Hall

Mr Oliver Kent

Mrs Helen Roberts

Mrs Sarah Sadler / Mrs Sol Bonta-White

Mrs Sarah Wollerton

Graduate Boarding Assistants

Mr Arthur Bennett

Miss Aylsa Osterman

Mr Michael Palmer

Matrons

Miss Roo Beeson

Miss Roz Gray

Mrs Sharon Morter

Mrs Karina Parfitt

Boarding House Support Assistant

Mr Mark Casanova-Davies

Lunchtime Assistant(s)

TBC

Non-Resident Boarding Tutors

Mr Marc Gee

Ms Juliet Hall

Miss Hannah Lambert

Mrs Tania Noble

Mrs Hannah Peck

Mrs Lorraine Skipper

Mrs Jane Terry

Mr Lee Wilson
House Contact Details
House Phone Number 01953 609032
House Email fry@wymcol.org