Student Leadership
The Head Teacher's Council is a group of Year 13 students who are the voice of the student body.
They discuss issues raised by the students from across the College, meet regularly with the Headteacher and fundraise for chosen charities. Each member of the Council has a unique responsibility and area of expertise and two students take the roles of Head Boy and Head Girl.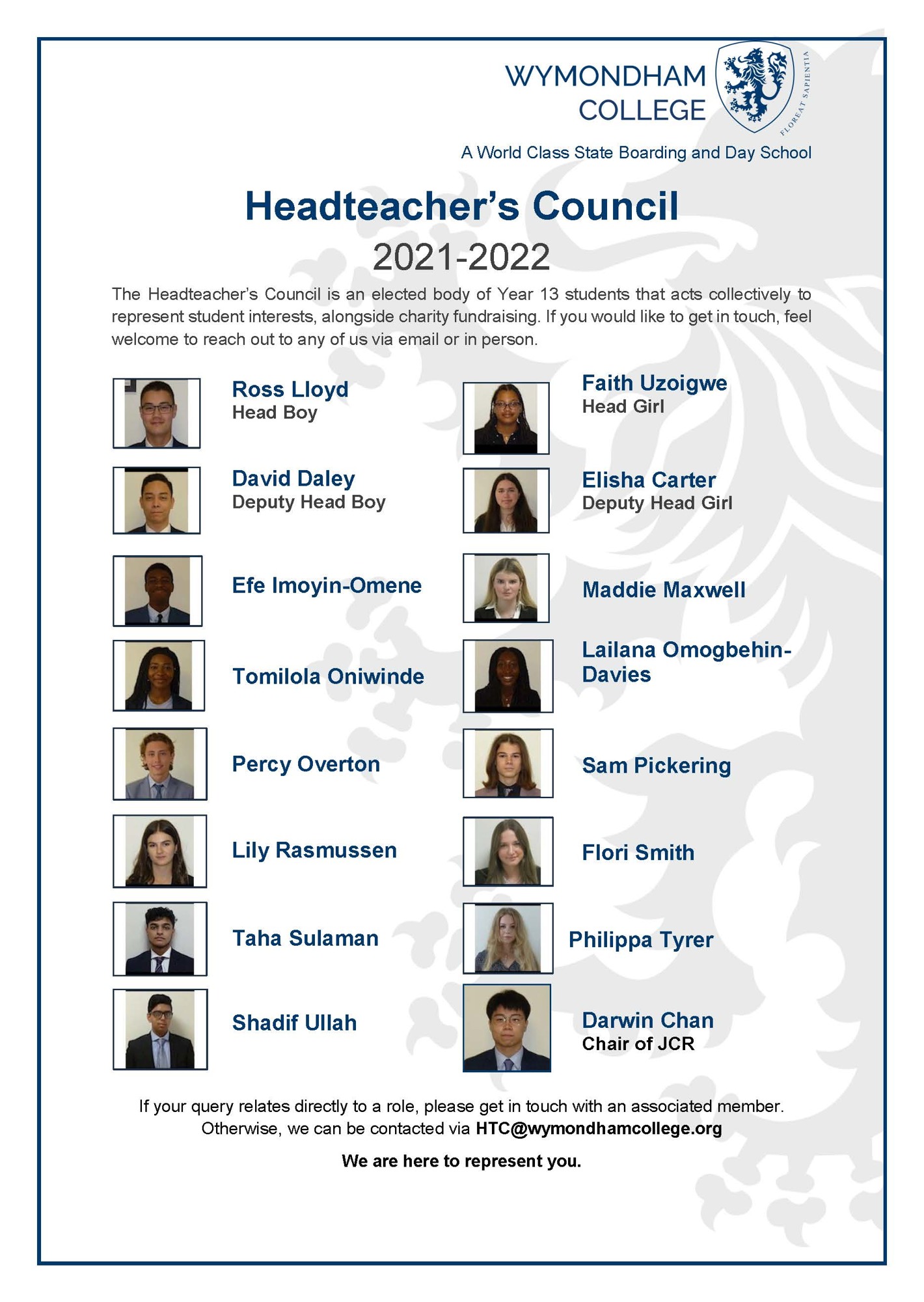 headteacherscouncil@wymondhamcollege.org
---
Head Boy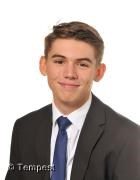 Hi I'm James, the current Head Boy at Wymondham College.
For the past 7 years Wymondham College has been an instrumental and positive part of my life. Spending the first five years in New Hall I was able to find so many opportunities, and although I may have started off spending every after school in the library, I quickly took full advantage of what the college had to offer. I spent many Saturdays in rugby fixtures, many Thursdays in the music department, and plenty of weeks on Cadet Camps.
I currently study Maths, Physics, and French (Many peoples worst nightmare I know) with an aspiration to be a pilot through which Cadets has helped enormously; I was privileged enough to receive a 2 week flying scholarship in Dundee.
In addition the college has provided me with numerous other experiences including public speaking competitions, being a New Hall house captain, plus a welcoming and friendly learning environment. I have really enjoyed my time here and am looking forward to my final two terms hoping to make a positive impact on the college and those in it.
---
Head Girl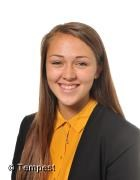 I am Chloé and I am very proud to be the current Head Girl here at Wymondham College.
Although I only joined the college last year, I am overwhelmed with the incredibly strong community that is a truly significant element within both the academic and social aspects of the school. As well as this, I have been able to immerse myself in many of the amazing opportunities that the college has to offer such as being a member of a house council, a mental health first aider, a debate mentor for younger students and recently working together collectively with the innovative members of Headteachers council.
As a team we have all enjoyed the ability to take on the responsibility of representing the students and producing legacy ideas to implement this year. These include ideas like: a legacy corridor to inspire current students by remembering past students who have gone forward to make big achievements, as well as a time capsule to allow students to remember important memories and see how they have evolved since being with the college.
I have thoroughly enjoyed my first year and I am looking forward to working with the rest of the council this year to implement these legacies in the hope of making Wymondham College even greater!
---
Our Chosen Charities
This year Headteacher's Council have decided to support three worthy charities that we feel very passionate about that have some very personal links. All the charities are local and have an impact on the people around us.
Addenbrooke's Children Hospital
Addenbrooke's hospital is part of the Cambridge University Hospitals NHS Foundation Trust and is Norfolk's centre of medical excellence. As an internationally known university teaching hospital, it is a natural centre for specialist services dealing with rare or complex conditions needing the most modern facilities, up-to-date treatment and the best doctors.
However, due to the nature of the quality of treatment at Addenbrooke's it is very busy and therefore very difficult for children who require urgent medical attention to gain a place there, hence, the need for a children's hospital. The hospital itself is set to treat anyone in need of urgent medical care up the age of 21.
This is a cause that we as council feel very strongly about, as it can affect any child our age and in this case even Mr Browning's own daughter, since her recovery we as a council believe that we should make every effort to help see this projected completed.
2. The Big C
The Big C was launched in 1980, with the aim that the people of Norfolk & Waveney would have access to the best treatment and support in their local areas. It was discovered that travelling between hospitals in London and Cambridge was often harder than the treatment itself. Since the creating of the Big C appeal they have raised over £32,000,000, going towards Surgical and diagnostic equipment at Norfolk's hospital meaning that many people diagnosed with cancer can be treated closer to home.
We know that as a College there are students struggling with family members being affected by cancer, with many them offering up this charity we believe that this a small way for us to help them and their families.
3. The Shed
The Shed is a place where men can go and interact with other men in a safe and non-judgmental environment. This environment is created within a facility where practical activities can be engaged with the assistance of skilled men and a strong sense of community.
This community project is aimed to assist men with social and emotional issues who may feel that they do not "fit in". This could be to their family, community or even society in general for whatever reason. It could also result from living in a difficult relationship, or worse from a relationship break up, loss of a job or even a past prison sentence. Shoulder to shoulder talking with direction and purpose in worthwhile tasks allow supportive relationships/therapeutic avenues to be built and trust established. This enables positive outcomes for partners, family and the wider community where the suicide rate for men is four times the rate of women.
At the College, we remember that both men and women are affected equally by troubling events and that the issues that men face are commonly hidden or not talked about. We decided to make a strong effort to change this ideology to make to ensure the wellbeing of all our students is paramount.