Back
Pupil Premium and Coronavirus Catch Up Premium
Pupil Premium
The Government believes that the Pupil Premium, which is additional to main school funding, is the best way to address the current underlying inequalities between children eligible for free school meals (FSM) and their peers by ensuring that funding to tackle disadvantage reaches the pupils who need it most.
The Pupil Premium was introduced in April 2011 and is allocated to schools to work with pupils who have been registered for free school meals at any point in the last six years (known as 'Ever 6 FSM'). Schools also receive funding for children who have been looked after continuously for more than six months and children of service personnel.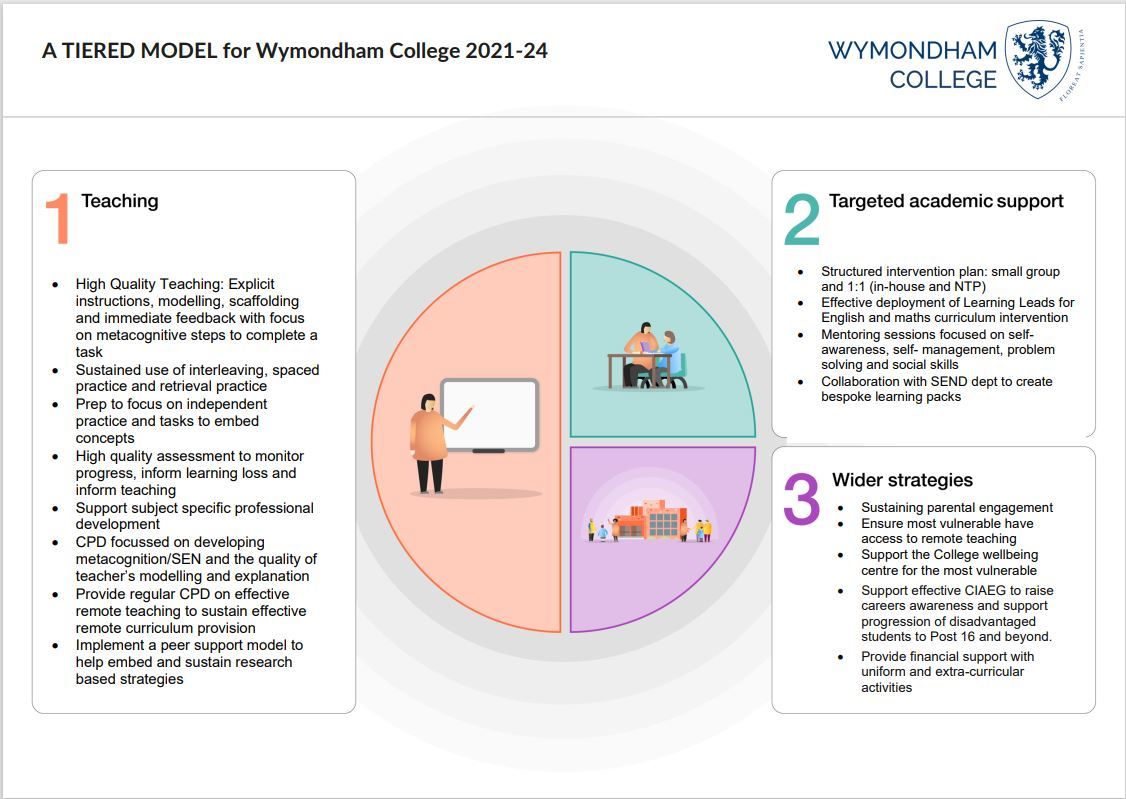 Pupil Premium Strategy Spending 2021-22
Pupil Premium Strategy Spending 2021
Year 7 Literacy and Numeracy Catch Up Funding 2019-20
The literacy and numeracy catch-up premium, which is additional to the Pupil Premium funding, gives schools funding to support Year 7 pupils who did not achieve the expected standard in reading or mathematics at the end of Key Stage 2. The following document illustrates how Wymondham College allocated this funding in 2019-20.
The Literacy and Numeracy year 7 catch up funding has, for 2020-21, been incorporated into the Coronavirus catch up, see below, and will be reported on within that funding stream.
Coonavirus Catch Up Premium 2020-21
The Government has allocated catch up premium funding for each school to support a range of interventions aimed at bridging any gap in attainment that may have resulted from the 2020 lockdown from April to September. The funding is based on £80 per pupil for all pupils in years from reception through to Year 11. This catch-up premium includes the Literacy and Numeracy catch up funding, that was previously a separate and distinct funding stream. 'Schools have the flexibility to spend their funding in the best way for their cohort and circumstances' and this includes ensuring that each school is able to deliver remote learning be that virtually or through paper resources.
Wymondham College makes the best use of this funding by focussing on evidence-based approaches as exemplified in the Education Endowment Foundation (EEF) report coronavirus (COVID-19) support guide for schools. Wymondham College uses this document to help leaders target this additional funding in the most effective way.
We have outlined a costed programme, which is adaptable should the circumstances of the College change due to COVID, for 2020-21. These include:
small group or one-to-one tuition some of which is through the National Tutoring Programme, but we also have support being delivered by specialist school staff.
Holiday programmes to help re-engage pupils
Purchase of online learning and support tools that can be used to advance understanding within the classroom or as part of a remote learning strategy
Ensuring the provision of remote online learning by purchasing more handheld devices, laptops and other equipment such as headphones, graphics tablets and visualisers.
Wymondham College COVID catch up outline spending 2020-21
**Please note that this is an evolving document and may change as the academic year develops dependent upon circumstances.
Please contact the College for paper copies.
Pupil Premium and Coronavirus Catch Up Premium